TSUNAGU Membership
Business Circle "TSUNAGU" Membership for Mothers
Recently in Japan, countermeasures to the falling birthrate has been taken on a national level, such as promoting companies to support their employees during childrearing period, and increasing the number of childcare services to reduce the wait-listed children. It is indeed very important to have an environment for working women to be able to balance both childrearing and work.
However, it is true that there are also women who undergo a conflict of "wanting to spend more time with their lovable child even after their childcare leave period is over, but need to go back to work because of the difficulties they may face once they terminate their career".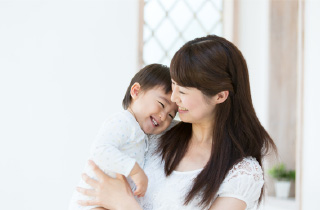 Also, women who quit work to have or raise children and have been concentrating on child-care for several years feel quite challenged to return to the career they wish because of long blank in their career. In fact, there are lots of women around me who face with these challenges.
"Go ahead, take your time in making an ever-lasting parent-child bond through physical contact, talking, laughter. Children who grow in such an environment, will continue to have the power to overcome various difficulties during school-period and adolescence because of their "unconscious memory of being cared and loved" "(Douwakan Publishing Editorial Department) I have deeply empathized with these words.
The background behind the establishment of TSUNGU Membership is our idea to create a new model of "Personnel Placement" for mothers to be able to get back on their career track when they feel ready. This program wishes for children who bear the future of Japan to be able to receive unconditional love from parents and become adults with strong hearts; as well as for women who become mothers to be able to spend all the necessary time and love for their irreplaceable child during childhood, while still developing their own skills and social contact.
joining TSUNAGU Membership
"Business Circle TSUNAGU Membership for Mothers" is a Networking and Business Study Group to support women, who have quit their jobs to focus on childrearing after giving birth, to restart their career again.
Membership Privilege
‐ Free attendance to once a month TSUNAGU Business Study Group
- Free attendance to TSUNAGU Networking Events
‐ Usage of A&M Career Counseling & Personnel Placement service
- Attendance to A&M Seminar with membership price
Annual Membership Fee: 12,000yen (tax excluded)
If you would like to join, please enter the required fields in the form below and send it to us. We will follow up with additional detailed information, as participation in our information session is necessary for membership acceptance (Children are welcome to the information session).

TO PAGE TOP