Vision
Total Human Resources Consulting at A&M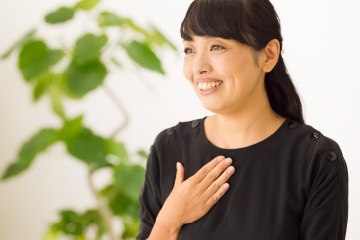 CEO Ako Shimokaze
It is said that human beings are given birth to grow.
From the baby's first cry up to now, many different experiences and learnings have shaped us individuals.
Each one of us has our own irreplaceable "individuality" and "values". Having these "individuality" and "values" as a base, and working hard on the job we choose, as well as living a vibrant daily life, allows us to portray a further growth spiral.
However, once we graduate from school and go out into the world, we sometimes feel a mismatch with our company or job, or repeatedly change jobs due to the lack of sense of accomplishment. The reality is – there are many people who pass their day by just "doing" their job. Since we spend most of our daily hours working, if you are able to acquire a sense of accomplishment and growth from work, would not your life become more fertile?
Simultaneously, companies experience occasions where they face disappointment with the recruited resources, have an active turnover rate, have long-lasting under-performers, have non-developing employees, etc… Within the 3 elements of management resources - "Manpower・Material・Money", often the area of "Manpower" is a struggle for many companies. In order to develop and provide the Material (Product・Service) or to produce Money (Profit), Manpower must be gathered first. We believe companies that prosper, are those who are strong in "Human" resources.
By providing support to resolve these dilemmas, A&M Consulting would like to vitalize both the individual and the company and in turn contribute to energizing the future of Japan as a whole. This is our vision, in which we have established our company.
A&M Consulting is distinctive in its approach to Human Resources Development by taking into account both the individual's and the company's perspectives. By delving into the values and needs on both ends, we are able to provide versatile support in organizational development and individual career development. Also upon request, we are able to take on the role to "connect" the company and the individual as well.
Also, Strategic Human Resources Consulting regarding "how to create working environment which makes it possible to attract, motivate and retain competent women even after childbirth"is one of our strengths. We believe that it is not an exaggeration to say that the coming era is the age of companies who value, employ and promote the use of women's abilities. At the same time, we know that there are lots of competent mothers in Japan. That's why we approach this opportunity from both the individual's and company's side.
We hope to have a chance, in the near future, to support those of you who have visited our website.
Hokkaido University - Law graduate.
After working for a Japanese company and a foreign-affiliated company for 11 years, joined a worldwide Scandinavian home furnishing company during their launch in Japan. As a Country HR Manager and also a Board Member, was involved in the business from a human resource perspective.
After giving birth, became highly interested in contributing to creating a vital future for the next generation, and established A&M Consulting, a Human Consulting Company that supports the growth of both individuals and companies.
TO PAGE TOP